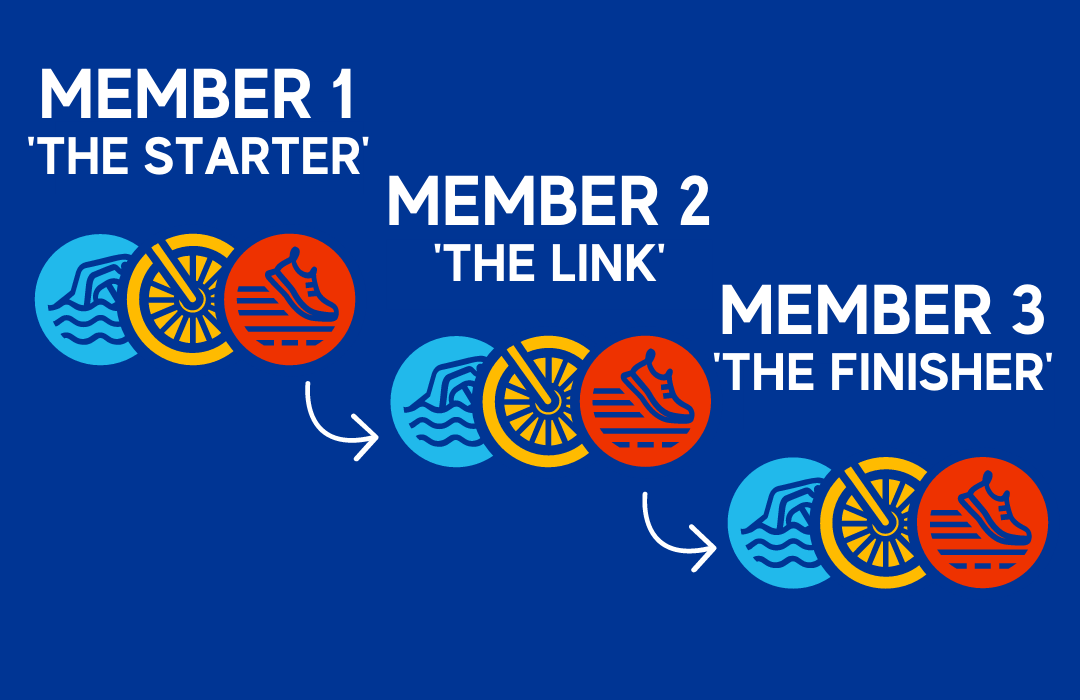 FULL RELAY
Teams of 3 – Each team member completes a full triathlon handing over the timing band in team transition. Each team member will receive their own result which is combined for a total team time.
ENTER NOW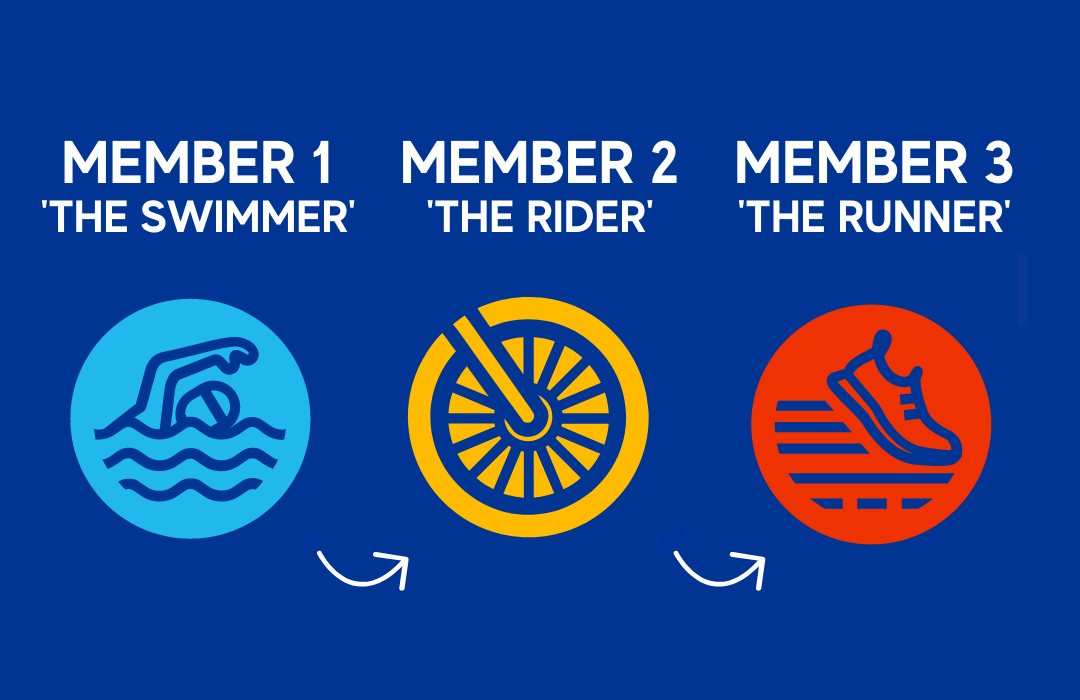 FUN RELAY
Teams of 2 or 3 – Each team member performs a leg(s) of the one triathlon, dividing up the Swim, Bike, and Run for a total team time.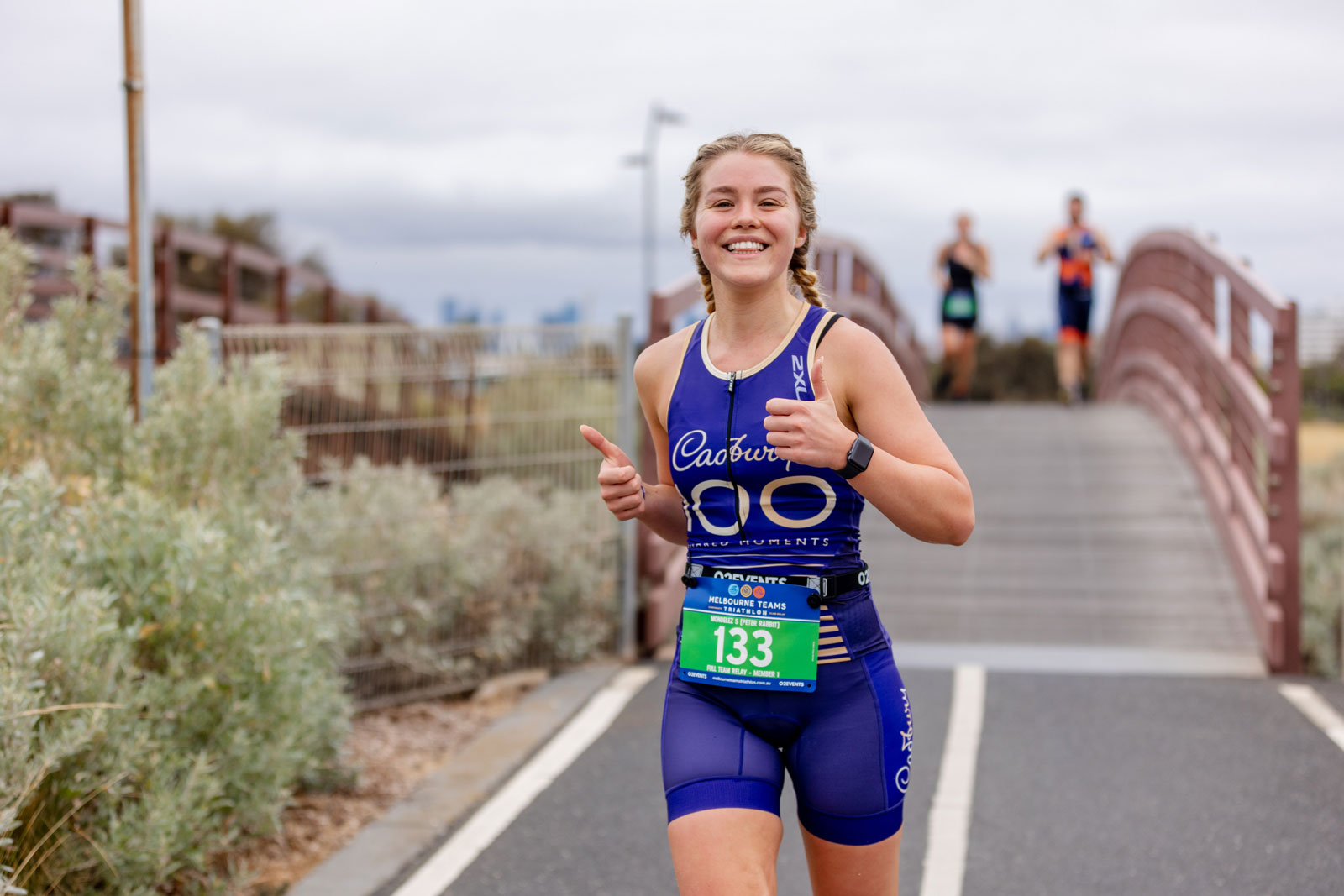 ENTER NOW
EVENT DETAILS
Melbourne Teams Triathlon
Date: Sunday 26th Feb 2023
Event Hub: Elwood Head St Reserve, Elwood
Transition Area: Head St Sporting Fields
Road Closure: Beach Rd, Kerferd Rd to St Kilda St 6:30am to 12:00pm
Start Time: FULL Relay 8:00am & FUN Relay 9:30am
Finish: Varied – 11:30am to 1pm
Swim: 400m Elwood Beach
Ride: 10km Closed Beach Rd
Run: 4km Beach Path Run
Saturday 25th Feb 2023
Team Kit Collection and Bike Drop 10am to 2pm
Mandatory for all teams without Express Bike Check-in
Sunday 26th Feb 2023
Event Day
– Event Village Open from 5:30am
– Express Bike Drop & Kit Collection Open from 5:30am
– Full Team Relay Starts at 8am
– Fun Team Relay Starts at 9:30am
TEAM PRICING
Team Type
EOFY
Ends 31-Aug-22
11:59pm
Early Bird
Ends 16-Dec-22
11:59pm
Standard
Ends 17-Feb-23
11:59pm
Late Entry
Closes 23-Feb-23
5:00pm
Full 'Main' Relay Team
$380
$390
$410
$420
Fun Relay Team
$255
$265
$275
$285
All Team Members receive a 2XU Event T-Shirt
Card and PayPal payments are available online with tax invoices emailed.
If you have more than 5 teams, payment is also available via EFT and invoice.
Please email info@o2events.com.au if you would like to request invoice payment for team fees.
Team Kit Postage & Express Bike Check-in – $30
Teams who purchase this option can check-in bikes on event morning rather than the day before which is the default option for all teams who do not have Express Bike Check-in.
Booking Fee
All team prices have a 3% Booking Fee and Merchant Fee added at checkout.
COVID-19
If the event is unable to proceed due to COVID-19 restrictions, or a team wishes to withdraw, there is a 20% Refund Admin Fee charged, with 80% of the registration fee refunded.
EVENT DAY
Such a good way to get your workplace or club operating as a team unit!
A lot of pre-event nerves will be out the window as soon as the start horn goes, with the accomplishment of combining a Swim, Bike and Run providing a unique achievement to celebrate with teammates. Throw in a healthy dose of competitive spirit, and there is plenty to talk about over a BBQ and Beverage at the Finish Line & Team Marquee.
A great goal for many who haven't done a Triathlon before, and a highly sought-after result for those who are experienced at Triathlon.
Beginners have plenty of space to find their way, with experienced athletes racing up the front.
MARQUEES AND CATERING
Harry the Hirer are back with Single, Double and Triple Marquee sites to suit the number of teams you host at the event.
Catering and BBQ options are available for purchase and to host within your Marquee.
VIEW OPTIONS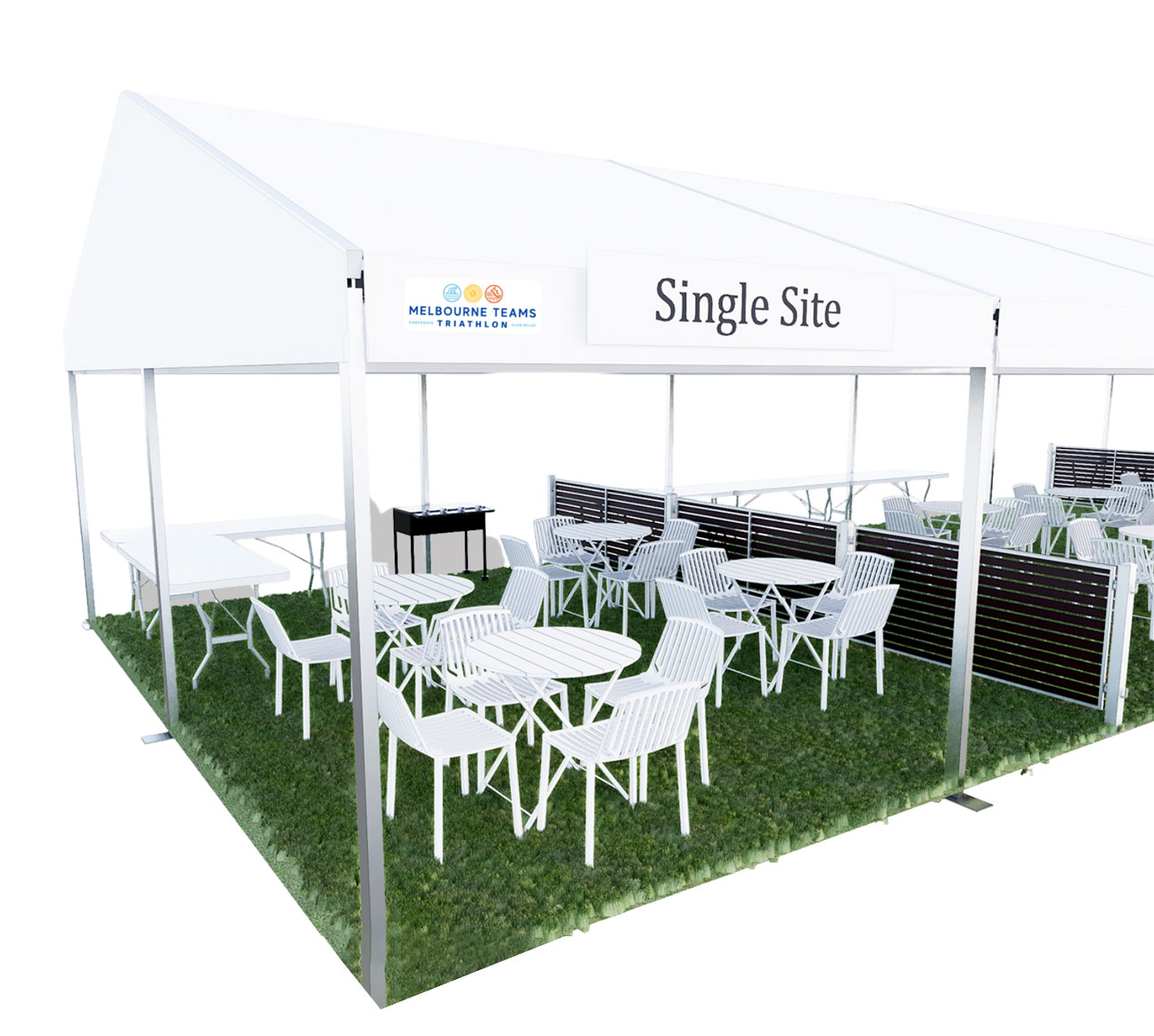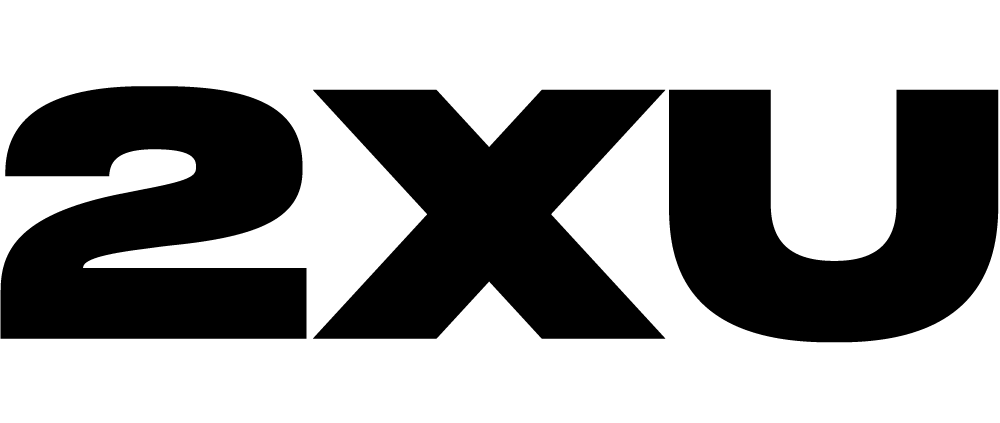 CUSTOM
TRIATHLON
WEAR
When it comes to customising your 2XU product, if you can imagine it, we can design it.
To begin your teamwear, please use contact form via the link below.
CONTACT 2XU CUSTOM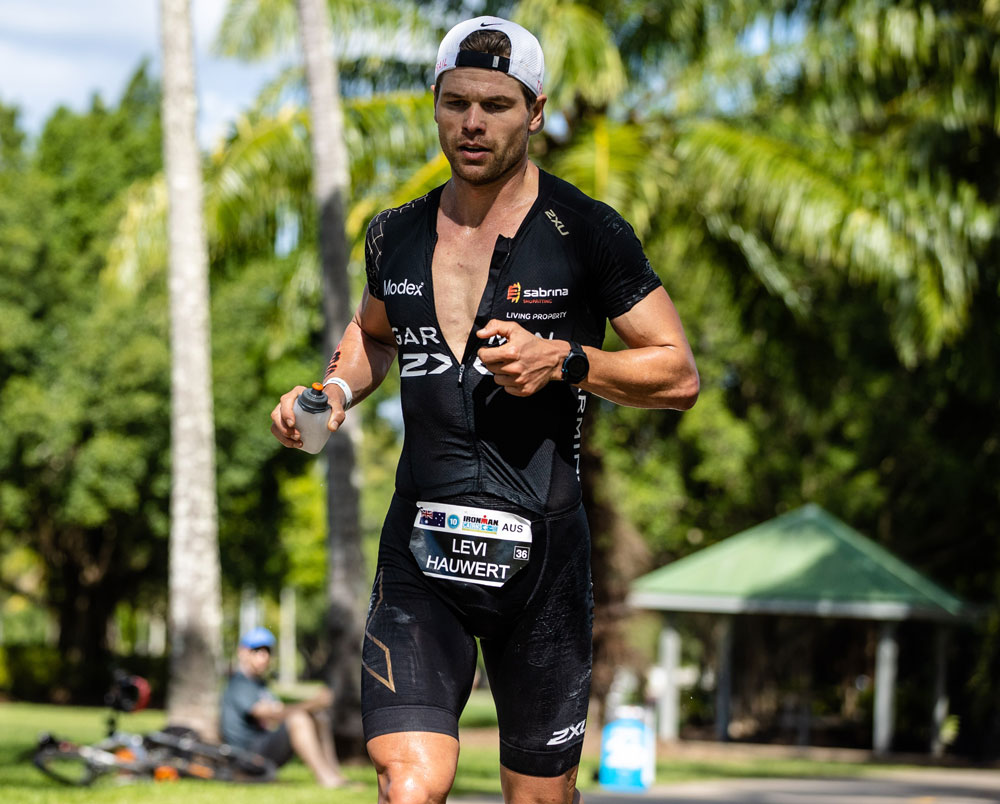 TEAM RELAY IS BACK!
Team relay triathlon is a uniquely rewarding event that champions; Team-building, Fun, Shared Achievement, Physical and Mental Health, Camaraderie, and accomplishing a shared challenge.
O2 Events would like to invite your Company or Club to compete at the 2022 Melbourne Teams Triathlon on the 27th of February, racing in the FULL Relay with 3 x Full Triathlons OR the FUN Relay splitting up 1 Triathlon.
The Finish Line at the event is a great environment to debrief post-race with Marquees from Harry The Hirer with Catering, and BBQ packages available to all Companies and Clubs. 2XU T-shirts are included for all team members.
We can't wait to see your workplace or club in Elwood for the Melbourne Teams Triathlon.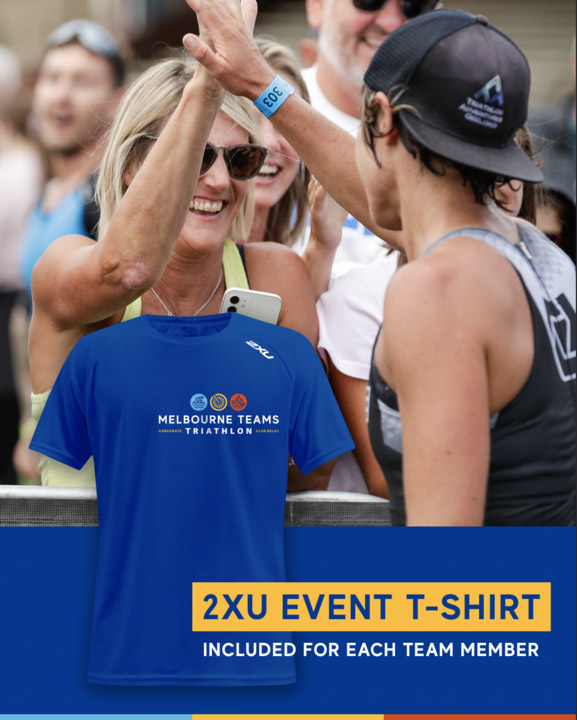 EVENT GUIDE – EVERYTHING YOU NEED TO KNOW!!
Get ready for Melbourne Teams Corporate Triathlon at Elwood this Sunday 27th of February!
CLICK HERE for your Event Guides and Wave Starts.
The guides will cover everything you need to know for your race on Sunday including; checklists, wave times, detailed course maps and parking information.
'E-Tickets' will be emailed to teams that are collect kit packs onsite on Wednesday 23rd February.
Good luck! We look forward to seeing you at the start line and wish you a safe and fast race.